A healthy roof protects the rest of the home and reduces water damage. A few simple maintenance tasks, like cleaning gutters and inspecting for leaks in the attic can help extend your roof's life and avoid costly repairs.
Keep your roof free of debris and moss by keeping tree limbs trimmed away from the house. Also, make sure the caulking around chimneys and vents is in good condition. If you need help, call Fayetteville AR Roofing experts.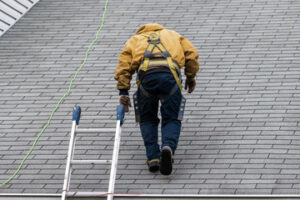 Clean Your Gutters Regularly
Gutters are one of the most overlooked parts of a home's roof, but they play an important role. They help channel rainwater away from the foundation and walls of the house, protect the roof and soffit, and prevent rot in the fascia and wood. However, gutters can become clogged with leaves, twigs, and other debris, which can lead to water damage and other costly problems. Cleaning your gutters regularly can help prevent this from happening.
Cleaning your gutters may not be the most fun or exciting home maintenance task, but it's a necessary one that every homeowner should do regularly. The most important time to clean your gutters is after a large storm or each season as changes in weather occur.
When your gutters are clogged, water cannot flow through them properly and will force its way onto the roof or into the foundation of the house, which can cause mold, mildew, and rot. This can also cause leaks in the house that can be expensive to repair.
Gutter guards can help prevent this from occurring by keeping out all but the smallest of debris. These are a good investment for homeowners who want to keep their gutters in great condition, but they do need to be inspected and cleaned from time to time to ensure they're working correctly.
Another benefit of regular gutter cleaning is that it helps to keep pests and rodents away from the home. Clogged gutters are an attractive nesting and breeding place for rats, mice, birds, mosquitoes, and other pests, who can spread diseases like the West Nile Virus. Cleaning your gutters can help eliminate these pests and keep them from damaging your roof, walls, and foundation.
It's recommended that you clean your gutters twice a year, once in the late spring and once in the fall. If you live in an area with a lot of trees, you may need to clean your gutters more often, as the leaves will fall and clog them faster. In addition, you should inspect your gutters after each major storm to make sure they are free of debris.
Inspect Your Shingles Regularly
The shingles on your roof play an important role in keeping moisture and other elements out of the house. As such, it's important to inspect shingles regularly. This will help you catch issues early on before they cause significant damage.
During a roof inspection, a roofer will check the condition of shingles, look for signs of damage, and identify potential problem areas. He will also check the flashing and metal roofing fasteners.
Shingles that are nearing the end of their lifespan will be identified by an excessive amount of granules washing away from the surface. This is a sign that the asphalt shingles are starting to wear down and will need to be replaced. A roof inspector will also examine the gutters and downspouts to ensure they are free of debris that could lead to clogs.
He will also look for signs of moisture in the attic, such as water stains on ceilings and walls. He will also look at the insulation to make sure it is not leaking and retaining heat, which can cause expensive energy bills.
A shingle roof needs to be inspected regularly because a leaky shingle roof can lead to costly water damage inside the home. Even if the shingles are not yet worn out, a leak can be caused by a variety of things. For example, a leak can be caused by cracked or damaged shingles, missing shingles, and cracks or holes in the chimney flashing.
In addition, a leak can be caused by tree branches that hang over the roof and rub against it during storms. A tree's branches should be trimmed to prevent them from scraping against the roof.
The roofer will also look for signs of mold, fungus, and other problems that indicate a need for replacement. He will also look for areas where the shingles are beginning to curl or buckle. The shingles should overlap each other by about 1/2 inch. If the shingles are not overlapping, they need to be repositioned or the entire roof should be replaced.
Inspect Your Chimney
When you burn wood or coal in your fireplace, by-products like smoke, vapor, and unburned wood move through the chimney. They cool and condense to form a dark brown to black coating called creosote. Over time, creosote accumulates to the point that it can obstruct a chimney flue and invite dangerous carbon monoxide fumes into your home. Creosote can also cause chimney fires that damage the flue, surrounding masonry, and the underlying structure of your house.
A chimney professional uses a camera to examine the interior of your chimney, looking for signs that it needs cleaning. A level 1 inspection is suitable for chimneys that are used regularly under normal conditions, and it doesn't require special tools or climbing equipment. A level 2 inspection is more thorough and should be performed if the chimney has undergone a significant change (e.g., a new fireplace or a replacement of the flue liner); following a chimney fire; dramatic weather events such as an earthquake or hurricane; or before you buy or sell your home. A level 3 inspection involves removing parts of the chimney to get a closer look at hidden areas.
Regular roof inspections also include examining the chimney flashing to ensure it's in good condition and preventing water leaks. If the caulk around a chimney or vent pipe is cracked or beginning to lift, a professional can remove and apply a fresh bead of caulk.
Keep an eye out for loose or missing bits of mortar between bricks, as well. These can lead to water infiltration, as well as moss and algae growth that can erode your shingles.
Keeping tree limbs away from the sides of your roof is important as well. Long branches can pull on the shingles, and they can block sunlight that would otherwise help prevent moss and algae growth. They can also give squirrels, birds, and other critters easy access to the roof, where they might nest or chew on the shingles and flashing.
Chimney professionals can inspect your chimney for obstructions, such as leaves, twigs, and animal nests. These obstructions can block the flue, causing a backdraft that forces smoke and harmful gases into your living space. The chimney professional can also check for excessive creosote, flue liner cracks and deterioration, and masonry damage that might cause a fire hazard.
Inspect Your Attic
Home inspectors often find roof problems during a thorough attic inspection. This is because the attic provides evidence of long-standing issues like mold and mildew growth, moisture control problems, or improper ventilation. These issues can negatively impact indoor air quality, humidity levels, and even the structural integrity of your home.
A good attic inspection should include a visual examination of the framing, sheathing, and trusses for damage. It should also assess the quality of insulation and the effectiveness of ventilation. This will help prevent ice dams, excessive heat buildup, and moisture problems that can damage the roof structure.
Moisture intrusion is a common problem that can cause significant water damage to the attic, ceilings, and walls of your home. In addition, it can lead to mold and mildew, which can affect the health of your family. A yearly attic inspection is the best way to catch these issues before they can spread.
Look for signs of water intrusion such as stains on the attic deck, roof sheathing or framing, and watermarks on the vent pipes that protrude through the roof. If you spot any of these, call a professional to repair the leak.
Check for insulation problems, including gaps or voids in the insulation and its thickness. You should have about 13 to 18 inches of insulation in your attic. If you have more, you can save money on energy bills by keeping the warm air in during winter and the cool air in during summer.
Make sure the soffit and ridge vents are clear of debris and functioning properly. This will help prevent ice dams in the winter and excessive heat buildup in the summer, which can damage the roof and other components of your home.
If you plan to sell your home, a regular attic inspection will improve your home's value and can prevent potential issues from being overlooked by a buyer. A preemptive attic inspection can save you a lot of time and money in maintenance and repairs, as well as prolong the lifespan of your roof and home.