Roof Replacement West Chester offers several benefits for homeowners. It protects the home from structural damage and can reduce energy costs. It can also improve home value.
Several factors can affect the cost of roof replacement, including size and materials. Learn more about your options and avoid unwelcome sticker shock.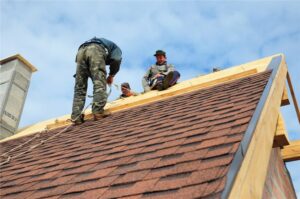 Replacing a roof is an investment only some homeowners look forward to. But a sturdy, well-maintained roof protects everyone and everything inside a home and boosts curb appeal. If your house is starting to show signs of wear or you have multiple leaks, it's time to consider a full roof replacement. But you'll need to be aware of the costs involved so that you can plan accordingly.
The cost of a new roof depends on the materials, the size of the roof, and where you live. But you can save money by choosing cheaper shingles instead of more expensive ones, and filing an insurance claim may help pay for some of the costs. You should also avoid contractors who request a large cash deposit upfront or try to pressure you into signing a contract. Request quotes from several companies and compare prices.
One of the most significant factors in the cost of a new roof is the size of the home. This includes living space, garages, sheds, and patio cover areas. Getting an accurate estimate of the square footage is important so you don't end up with a too small or too big roof.
Roof size is also affected by the pitch, or incline, of the roof. A roof with a steeper incline will be more difficult and dangerous for the roofers to work on, so it will cost more than a flat roof.
Labor makes up the bulk of the roof replacement cost, with a typical homeowner paying about $2 per square foot for labor expenses, says Micetich. The rest is for materials, from basic asphalt shingles to luxury copper.
If the existing roof has an additional layer of shingles, you'll have to remove that first before installing the new roof. This can add to considerable labor, especially if the original roof is sagging or has visible damage. Also, remember that any structural repairs you might need to make as part of the roof replacement will increase the total cost.
The roofing materials a homeowner chooses will greatly impact the overall roof replacement cost. The choice of material will also help communicate a home's style, add value, and protect it from severe weather and leaks.
The cheapest types of roofs are asphalt or composite shingles, while clay tiles have the highest price tags but can last up to 100 years. Many homeowners choose slate tile or synthetic slate as an affordable middle ground. In contrast, others want the durability of metal and copper, which are often pricier options but can have lifespans of up to 150 years.
One of the biggest reroofing is reroofing the new roof itself, which can range from $2,000 to over $40,000. The type of shingle chosen will be a major factor in determining the overall cost, with wood shakes and slate being the most expensive.
Another important component of the cost of a new roof is the decking, which is the plywood that makes up the base of your entire roofing system. It is not usually included in the re-roofing costs and re-roofings essential for any new roof. With proper decking, water and wind can stay on the new roof.
When choosing a new roof, it's also essential to include the cost of any applicable taxes or fees. These can be local, county, or state taxes and may be applied to the materials purchased or the labor for the installation.
Other factors influencing a roof's overall cost are the project's size and materials. For example, the bigger a roof is, the more it will cost to build and the longer it will take to install.
Adding to or replacing existing gutters can reduce the total cost of the re-roofing job. reroofingrds, which run across the lower edge of a roof, can be replaced or added, depending on the home's needs. Ice and water barriers around the vents, chimneys, and areas where two incline planes of the roof meet can prevent leaks and be installed or replaced as needed.
A roof is a key structural component of your home but is subject to wear and tear from the elements. Over time, this can lead to leaks and other problems that can compromise the integrity of your home. A professional roofing contractor can provide the necessary expertise if your roof needs replacement. Licensed roofers should have liability and workers' compensation insurance to cover any accidents that could occur during the installation process.
The first step in the roof replacement process is to get a permit. This is a good idea because it ensures the work will be done according to local codes. This will also help protect you if you decide to sell your home. The permit process also involves a professional inspection to verify that the new roof meets all code requirements.
Once the permits have been obtained, the roofing contractors will remove your old roof. They will start at the furthest end of your roof and work toward your driveway, where the dump trailer and new roofing materials are stationed. They will also clear any debris from the gutters before starting work on the new roof.
During the installation of your new roof, they will apply flashing around all areas where leaks might come in, including chimneys and skylights. They will also install ridge vents to help keep your attic cool and prevent winter ice dams. They will also lay down a layer of asphalt roofing paper, typically tacked or stapled to the sheathing board.
If you are replacing a roof in an area where wildfires are common, the roofing contractor may need to upgrade the fire rating of your home or change the types of roof penetrations to resist high winds. These changes can add to the overall cost of your roof replacement project.
A reputable roofing company can give you an accurate estimate of the cost of your roof replacement project. They should also offer you a variety of roofing materials that will complement the look of your home. In addition, the roofing company should be able to provide you with a warranty for their services.
Most roofing contractors will promote a warranty with any roof replacement, but many homeowners need clarification about how these warranties function and what they cover. There are three main types of roof warranties: manufacturer warranties, artistry warranties, and extended warranty coverage.
A manufacturer warranty is a guarantee from the roof materials supplier that covers the cost of repairs or replacement should any defects in the material occur. The length of this warranty varies from product to product and can range from a few years to several decades. Manufacturer warranties also exclude any damage caused by natural wear and tear or age and any expenses resulting from maintenance.
On the other hand, roofing companies offer artistry warranties and cover installation errors that may have occurred during construction or subsequent maintenance. Most roofing companies will offer these warranties for between 5 and 20 years. A qualified roofing contractor must install a roof to qualify for an artistry warranty. Typically, this will involve additional fastener requirements and verifying the roofing materials used. In addition, most manufacturers require that the warranty be registered within a certain window of time following the installation of the roof.
Often, roofing manufacturers will combine manufacturer and artistry warranties to create an "enhanced" warranty that covers both the material and the labor costs for the entire roof. This type of warranty can be offered for up to 30 years, depending on the manufacturer and the roofing material chosen. This warranty is the most desirable, as it will provide peace of mind and confidence in the quality of the roof.
When evaluating roofing contractors, looking at their reputation and track record is important. A good way to do this is by entering the company name into a search engine and reading relevant reviews or complaints. In addition, it is a good idea to ask any potential roofing contractor for references and examples of previous jobs.
One last thing to remember when comparing warranties is that even the best manufacturer warranties do not cover everything. The most common exclusions include weather-related issues like heavy snowfall or hail. However, protecting these damages with a homeowner's insurance policy is usually possible.