It is important to understand what kind of damage your home insurance policy covers. It should specify whether your roof is covered by Actual Cash Value or Replacement Cost.
If you suspect your roof has storm damage, it may be time to file an insurance claim. That is why you should hire a certified Allen Roofing Company for your roofing needs. Here are 4 things you should know about navigating the insurance claim process for roof damage.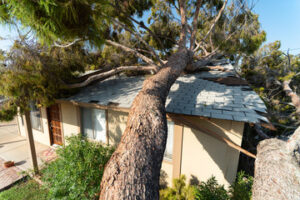 Document The Damage
When a storm hits, it can be difficult to know what damage has occurred to your roof until the clouds clear and you can go outside and assess. If you do have to get outside and inspect your roof, you should be sure to document all of the damage caused by the weather event. Keeping a written record of your findings, alongside photographic and video evidence can be helpful when you file your insurance claim.
It is also important to keep in mind that you should not clean up or make any temporary repairs to your roof until you have documented the damage with your insurance company and have been given permission from them to do so. Depending on your insurance policy, it may be necessary to report the roof damage within a specific time frame after the storm hits.
Check your homeowners' insurance policy to make sure your roof is covered and to find out what the exact payout amounts are for actual cash value (ACV) or replacement cost value (RCV). You will also want to determine whether you have a standard deductible or a wind/hail/storm deductible.
It is worth noting that your insurance company will look at the number of claims you have filed over the past 10 years. If you have been filing multiple claims, you could see your premium increase or even lose coverage altogether. If your roof is damaged, it may be worth the risk/reward to file a claim and have them cover the costs of repair. If you do end up filing a claim, consider hiring a public adjuster to help level the playing field with your insurance company and ensure that you are being treated fairly.
Contact Your Insurance Company
When you're ready to file a claim, contact your insurance company to ask about the process. Your policy may include information about filing requirements, including deadlines and specific forms you need to fill out. You can also request a copy of your policy from your provider to review the terms and conditions in detail. Look for the coverage section – it will include important details about what kinds of roof damage are covered and what to expect from the insurance process.
Once you have the claim number and an idea of how long it might take to resolve your case, you can begin the process. Be prepared to provide essential information like your policy number, a description of the damage, and mitigation steps you've taken.
It's a good idea to compare the insurance settlement offer with repair estimates from professional contractors and the report from your roofing inspector. This will give you a good idea of whether the insurer is treating you fairly or not. If you're not happy with the settlement offer, there's room to negotiate.
However, if the repairs are expected to cost significantly more than your deductible, it might not be worth it to fight the insurance company over this. Plus, the more claims you have on your record, the higher your risk profile and the more likely it is that your premiums will go up. If you have a major issue, consider hiring a public adjuster to level the playing field with your insurance company and protect your rights. A public adjuster can act as a neutral third party and provide an unbiased assessment of the damage and the costs to fix it.
Schedule An Inspection
After you've documented the damage, reviewed your insurance policy, contacted your insurer, and hired a professional for a roof inspection, it's time to schedule an appointment with an adjuster. This is an opportunity for your insurance company to objectively assess the damage and determine the cost of repairs or replacement.
During this meeting, make sure you have all the necessary documentation to support your claim, including visual and written records of the damage, mitigation steps you've taken, and estimates for repair work. Your roofing contractor can also be onsite during this inspection to help guide the adjuster and point out additional damages that may not have been noticed.
This is also a great opportunity for you to ask your insurance company any questions you have about the claims process. This is particularly important if you're not sure whether your damage is covered or if there are any exclusions to your coverage.
The last step in the process is to file your claim. Once you've gathered all the necessary documentation, complete the insurance claim form provided by your insurance provider and include all the required information, such as your policy number, the date and time of the damage, a description of the damage, and mitigation steps you've taken.
Keep in mind that filing a claim will likely cause your insurance premium to increase, though this can vary based on multiple factors, including how long you've been insured and the amount of claims filed over time. However, if the estimated cost of repair is close to your deductible, it's worth filing a claim to cover the expense and prevent further damage to your home. This way, you can get back on track with regular maintenance and other home improvements as soon as possible.
Meet With An Adjuster
During the meeting, the insurance adjuster will go over all the documentation you've provided. They will then inspect the damage in person, including the roof. They will look for various things, like shingle dents and other evidence of hail damage. They will also check for interior damage related to roof leaks.
It's a good idea to have a professional roofer present for this inspection. This will help to ensure that all of the damage is covered. It will also give the adjuster a more accurate picture of the extent of the damage and the cost to repair or replace it.
After the adjuster completes their inspection, they will offer you a settlement based on their assessment of the damage and the terms of your policy. This settlement will include compensation for the cost of repairs or replacement, less your deductible, and possibly depreciation. It's important to review this settlement carefully, as it may be possible to negotiate with the insurance company if you aren't happy with the amount they are offering.
If you aren't satisfied with the outcome of the insurance claim process, you can request a re-inspection by another adjuster or take legal action. However, this is a last resort and can be very costly. Typically, this option involves hiring a structural engineer to provide proof that your roof is damaged and needs to be replaced. This step is rarely necessary, though, as most homeowners can successfully negotiate with their insurers. This is especially true if they follow our 8 tips for filing an insurance claim for roof damage!
File A Claim
Once your insurance company has completed its assessment of the damage, it will issue a final settlement offer. This should include the cost of repair or replacement, less your deductible. You should review this carefully to ensure that it accurately reflects the extent of your roof damage. It is also a good idea to compare this with the repair estimates you have received from professional contractors and the report from your inspector. If the settlement amount falls short, you may have room to negotiate.
Once you've reviewed the insurance claim settlement, it is important to file the proper paperwork according to your insurer's instructions. This may involve submitting physical documents or filling out an online form. You should be sure to complete this step thoroughly, as any mistakes could lead to delays or disputes later in the process.
It is also helpful to keep copies of all of the documentation you've submitted, as these can be useful for future insurance claims or home sales. If you have any questions about your policy or its terms and conditions, don't hesitate to ask for clarification. A legal professional can also help you navigate the insurance process more effectively, as they have extensive experience working with homeowners' insurance policies and negotiating claims.
Filing an insurance claim for roof damage can be confusing and stressful, but it's essential to do so to receive the financial relief you need. By being proactive, following a step-by-step guide, and documenting everything carefully, you can better navigate the process and get the repairs you need to protect your home. Contact a law firm today to learn how we can level the playing field with your insurance company and ensure that you are adequately compensated for your roof damage.