Tidal Roofing enhances curb appeal and increases the value of your home. It protects your family from harmful allergens and critters that can infest the house.
There are different ways to clean a roof: power washing, chemical treatments, and soft cleaning. The best method depends on the type of work needed and the condition of your roof.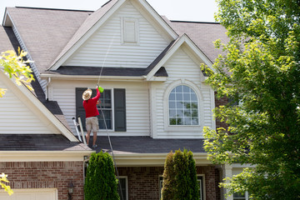 Moss and algae on roofs are unsightly and can cause serious problems if unchecked. They can weaken shingles and cause shingle blow-off. They also can stain shingles and discolor the overall appearance of a home. Keeping the trees trimmed and the roof regularly cleaned will prevent moss growth, but in some cases, a moss build-up may need to be removed manually with a scrub brush or sprayed off with a chemical treatment.
While some people use a power washer to remove moss, this is not recommended as it can damage the shingles and cause leaks. In addition, using a pressure washer to clean the roof may result in the loss of asphalt shingle granules, which help protect and prolong the life of the shingles. This can also leave the shingles vulnerable to future moss and algae growth, as well as premature aging due to sunlight exposure.
A more effective home remedy is to use a 50/50 mix of laundry-strength liquid chlorine bleach and water to spray the solution onto the mossy areas on the roof. Leave the solution on for about 15 to 20 minutes, then rinse thoroughly with low pressure water. Be sure to take the proper precautions and wear protective equipment when working with bleach, especially if you need to work on a ladder.
Another option is to pour a solution of three tablespoons baking soda per one liter of water directly on the mossy patches on your roof. The resulting alkaline solution will raise the pH level enough to kill the moss, and it should dry out within a few days. At that point, it can easily be brushed off with a broom.
A copper, zinc or galvanized metal strip placed on the ridge of the roof will inhibit moss growth by creating an environment that is not conducive to fungus growth. This method works well in conjunction with other moss and algae removal techniques, such as scrubbing or using bleach and water mixtures. It can also be used in conjunction with a gutter system that directs the water flow away from the roof.
When simple dirt and debris build up on a roof, it can detract from the overall appearance of your home and cause problems with your gutters. It can also trap moisture and accelerate the natural degrading of your roof materials.
Cleaning this debris can help your roof last longer and improve its overall look and performance. It is especially important if you are considering selling your home, as it can significantly increase its curb appeal and make it more appealing to potential buyers.
Depending on the climate and amount of foliage surrounding your home, you may need to clean your roof more frequently. Some experts recommend cleaning your roof every 1-3 years to prevent build-up and protect the integrity of your roof.
While it is generally unsafe for homeowners to climb on their own roofs, a professional with the right equipment can handle this task quickly and easily. To safely perform a roof cleaning, you should start by blowing off all the loose dirt, leaves, and debris. This will give you an opportunity to inspect the shingles for any damage that needs to be repaired.
Once the loose material is removed, you can use a long-handled brush with soft bristles to remove any remaining dirt and grime. It is a good idea to wear rubber gloves and safety glasses during this part of the process. This will protect you from any chemicals that could be harmful to your skin or eyes. A nontoxic, noncorrosive roof-cleaning chemical should be mixed with water in a bucket. This solution should then be sprayed on the roof, starting at the top and working down. Be sure to cover any areas that cannot be covered by the spray, such as vents and skylights.
Some stains or spots may remain, even after using the cleaner and water mixture. In these cases, a pump-up sprayer may be used to apply the cleaning agent to tough spots and stains. This can be done with a variety of cleaners, depending on the material your roof is made from.
Mold is a problem that is especially common in humid climates. It grows where moisture collects, such as around leaking pipes, in wet basements or on the roof. If it is not promptly removed, it can spread to the interior of the home and cause structural damage. It also creates a perfect breeding ground for pests such as birds, squirrels and termites.
Moldy and fungus-ridden roofs are unsightly and can contribute to indoor health problems, including allergies, runny nose and eyes and skin rashes. It is possible that mold growth on the roof can also dislodge shingles, which can lead to a leaky roof.
The best way to remove mold, mildew, and fungus from a roof is to hire a professional roof cleaning service. However, if you decide to take on the task yourself, be sure to protect your property and put safety first. It is very dangerous to climb on a roof, even with the help of a ladder, so be sure to wear protective equipment, including rubber gloves and a breathing mask.
Begin the cleaning process by removing any debris or loose moss with a soft-bristle brush. Next, apply a bleach solution to the affected area of the roof, using a garden hose and a spray nozzle with a low psi setting. After applying the bleach, allow the surface to dry completely before continuing.
Once the surface is clean, a fungicide such as D7 can be applied to prevent future mold and spores from growing on your roof. This product is available as a spray or foam and clings to the angled surfaces of your roof, making it easy to reach difficult to reach areas.
After allowing the D7 to dries completely, cover the treated area with a protective roof sealant to prevent it from peeling or cracking. Be sure to apply the sealant during a warm, dry day so that it can cure properly.
Stains on roofs detract from the appearance of a home and lower its resale value. In addition, they can lead to water damage. Stains can form from dirt, moss and mildew that settle on the surface of asphalt shingles. The stains then absorb sunlight and can create an environment that promotes the growth of algae.
Stain removal can be done with either a power washer or chemical treatments. While power washing is effective at removing moss, algae and other debris, it can also damage shingles and leave behind a residue that can promote the return of staining and other unwanted growth. For this reason, we recommend hiring a professional for stain removal on a shingle roof.
Chemical treatments remove stains by combining bleach or trisodium phosphate (TSP) with water to break down the dirt and grime that are responsible for dark green or black streaks on a roof. This solution is then applied to the roof and allowed to soak in for 10-15 minutes. If necessary, a second application may be needed to remove stubborn stains. It's important to note that these chemicals can be harsh on foundation plantings, so any shrubbery should be soaked in water prior to cleaning the roof.
There are some roof cleaners on the market that do not require bleach or TSP and still offer great results. However, they typically contain chemicals that can be harmful to plants and cause eye damage if not used properly. We recommend seeking out the most environmentally friendly options on the market.
Regularly cleaning a roof can greatly extend its lifespan and protect your investment in your home. While some homeowners prefer to do this themselves, it is important to consider any roof warranties or homeowner insurance policies that could be void if the roof is cleaned in an improper fashion. Also, climbing up and down a ladder to scrub a roof can be extremely dangerous and should only be done if you have the proper equipment and experience. By contacting a professional, you can rest assured that your roof will be cleaned thoroughly and safely.